Holiday Market Series
Homegrown & homemade local gifts for everyone on your list.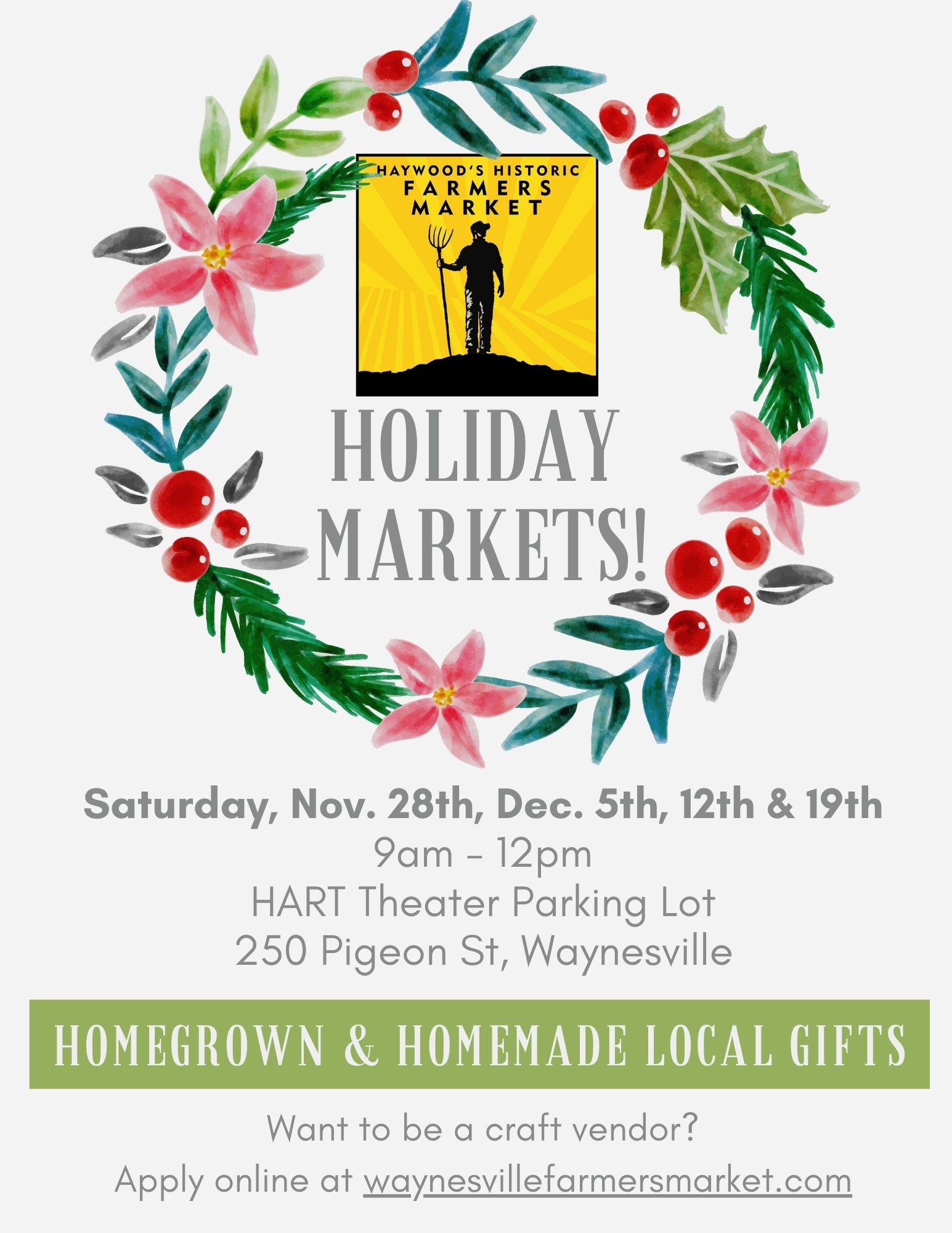 Holiday Market Series
Saturdays, Nov 28th – Dec 19th
You asked, and we heard! Come out for our Holiday Market Series: four Saturdays of good cheer from Thanksgiving weekend to just before Christmas.
We're opening the market to more crafters to meet our customers' demand for holiday gift shopping, so look out for even more quality, handmade heritage crafts like quilts, textiles, artwork, jewelry, pottery, and more!
The season ain't just about gifts, though–it's also about good food and good company! You'll still find your favorite meats, produce, seafood, eggs, baked goods, and other treats, too!
From our family to yours: have a safe and happy holiday!
Haywood's Historic Farmers Market
HART Theatre Parking Lot
250 Pigeon St | Waynesville NC
9am - 12pm
April 3rd through December 18th
We Want to Hear from You!
Send us your questions, thoughts, or comments using the form below.
Come Shop with Us!
Saturdays, 9am - 12pm
April 3rd through December 18th
HART Theater Parking Lot
250 Pigeon St | Waynesville, NC
Haywood's Historic Farmer's Market
Located outside downtown Waynesville just forty-five minutes west of Asheville, HHFM is your source for local produce, meats, fish, eggs, honey, dairy, preserves, baked goods, heritage crafts, and much more!
Credit/Debit Cards and SNAP/EBT Benefits Accepted!